Welcome to the Department of Sundarban Affairs
The operation area of the Department of Sundarban Affairs is spread over 16 Police Stations and 19 Blocks of South & North 24-Parganas district.
In January 1994, a new Department viz. Department of Sundarban Affairs was created to give an impetus to the development efforts in the Sundarban region and Sundarban Development Board has been placed under the Department. Department of Sundarban Affairs implements developmental activities through Sundarban Development Board. The department promotes social, economic and cultural advancement of people residing in the Sundarban areas of the districts of North & South 24 Parganas, co-ordinates development schemes and projects in the area, provides infrastructural facilities through improvement of rural communication, water resources, preservation of ecological balance, provides facilities for the development of the agriculture including minor irrigation and drainage system and allied matters.....
MORE ABOUT US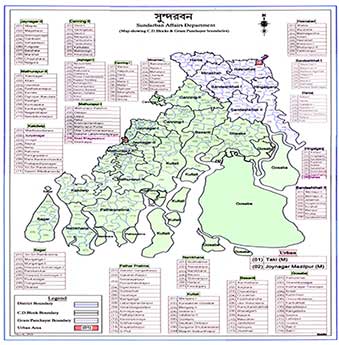 TENDER

Last Updated On: 25 Aug 2022

GO/ORDER

No Recent Data

Last Updated On: 23 Mar 2021

NOTIFICATION

Last Updated On: 08 Jun 2021
MANGROVE / FORESTRY

Social Forestry is widely defined as the afforestation activity with the involvement of the society and the people. In the Indian context, it also depicts greening initiatives outside the...

more about Mangrove Forestry...

BIODIVERSITY

The Indian part of Sundarban region is located in the state of West Bengal occupying the lowest part of the Ganga delta which has been fragmented by various distributaries...

more ...

TOURISM IN SUNDARBAN

The luxury tours to the Sundarban carry on the year round, and the monsoon holds its own magic over tourists on the expanse of the Sundarban, September and May is the most......

more ...
SUNDARBAN TRAVEL GUIDE

A land of 54 tiny islands, crisscrossed by innumerable tributaries of Ganga that was once infested by Arakanese and Portuguese pirates is now the abode of varied flora & fauna population. An area of 9630 sq. km., where 70 percent is under saline water makes the life of commoners, mostly honey-catchers, prawn-catchers and fishermen, very difficult, and where the estuarine mangrove forest is the habitat of Royal Bengal tigers, This is Sundarban, the world's largest estuarine forest.

More for Sundarban Travel Guide

SUNDARBAN BIOSPHERE

As part of the Man and Biosphere Programme (MAB), accepted in the general conference of the UNESCO in 1970, the Ministry of Environment & Forests, Govt. of India adopted the National MAB programme and declared the entire 9630 sq. km. Of Sundarban as the Sundarban Biosphere Reserve in 1989 through a notification to establish a formal mechanism for coordinating and integrating diverse activities of conservation, research and training for creating a better situation of harmony between man and environment...

more Sundarban Biosphere...

SUNDARBAN DEVELOPMENT BOARD

Constitutionally, it is a distinct development agency guided by the decisions of a Board comprising elected representatives (MLAs / Sabhadhipaties), Administrators (District Magistrates of the two districts), noted Social Workers and Non Government Organisations (NGOs) and representatives of State Govt. Depts. Functionally, however, it is a Directorate, erstwhile under the Sundarban Area Branch of the Development & Planning Department, and since 1994 under the Department of Sundarban Affairs of the State Government.

More about Sundarban Development Board